Mahsa Amini peers out from a mural that covers an entire building side in a Washington, D.C. alley, her head and shoulders floating over the words "Woman, Freedom, Life," and a lion and lioness flanking her.
The mural's painter is Rodrigo Pradel, a Chilean immigrant. He had no links to Iran or the large protests that erupted there when Amini, a young Kurdish woman, died in police custody last year. But it was his friend, Yasi Farazad, who inspired him to bring the movement half a world away to the streets of D.C., after seeing a similar piece in Los Angeles.
The project was a challenge. Unable to participate in the city's official mural program, Farazad had to seek out a site on her own, and finally found one with the help of a friend in a building that was owned by an Iranian American man. Pradel painted the mural in under 20 hours.
The mural shows Amini in the center with the colors of the Iranian flag. The lioness is a symbol of strong women in Persian culture.
"Mahsa is in the middle of it but she's not the only one who needs protection," Farazad told NPR. "I wanted this painting to represent all of us protecting women and men."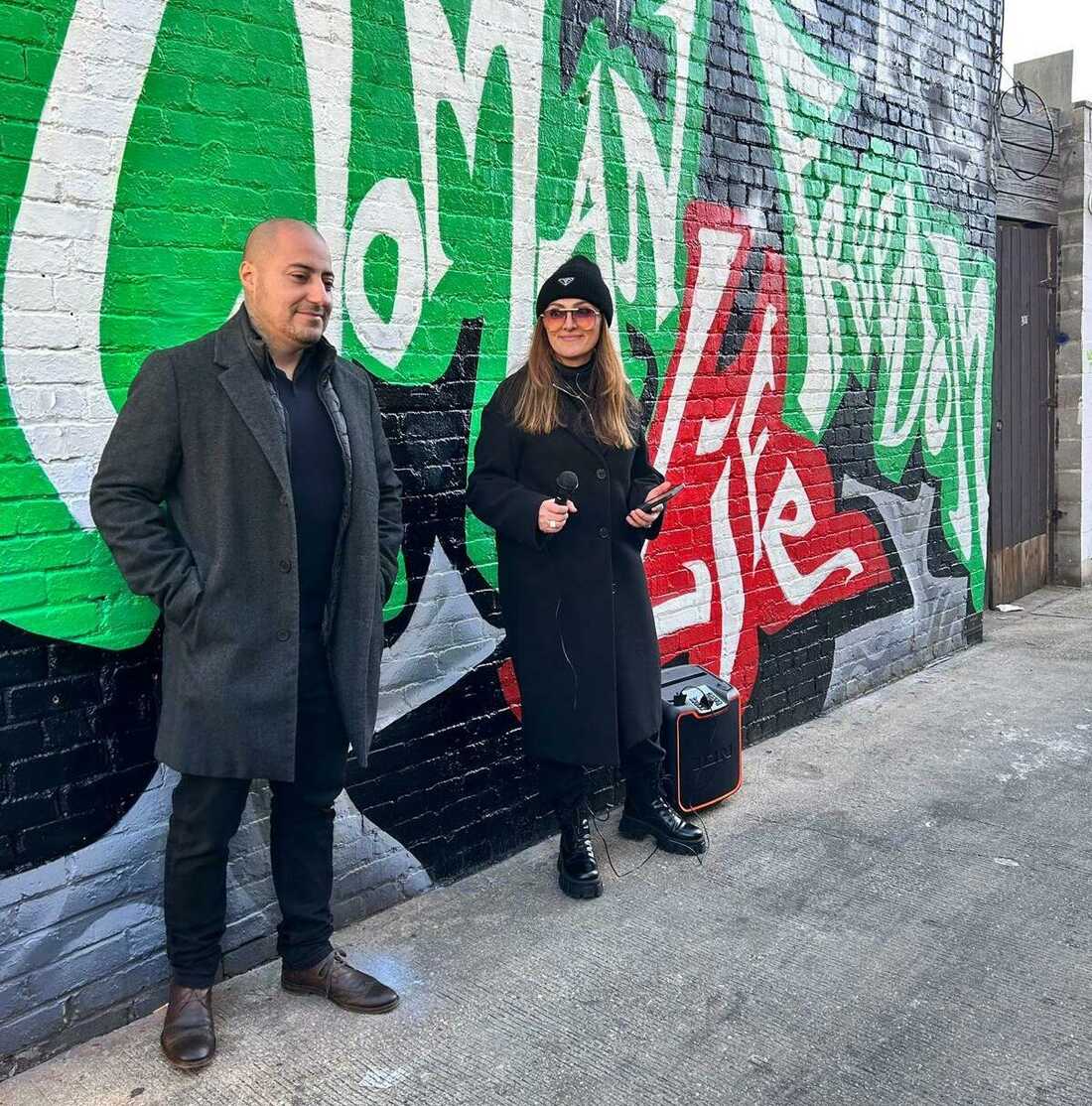 Before Pradel spray-painted the wall, a craft he has employed since the 90s, Farazad explained the history and context of revolutionary movements and protests in Iran to him.
"I felt honored to paint among many great muralists in D.C. but also be the extended paintbrush for all people who support life and liberty in Iran," he said.
Pradel then met local Iranian artists in the D.C. area and learned about their street art.
Keeping the fight from fading from view
Many artists are fueled right now by the protests, working out their thoughts and emotions in bold, colorful pieces and trying to keep the fight of Iranian women from fading from view.
Amini was detained in Tehran on Sept. 16 by Iran's "morality police" for allegedly violating the country's dress rules. She died three days later in police custody. Her birth name was Jîna, which means 'life' in Kurdish.
Protesters flocked into the streets, often shouting the slogan "woman, freedom, life," and men and women all across the world expressed their support. The #MahsaAmini hashtag was one of the most popular in Twitter history.
In the United States, artists were among the first to demonstrate their support in both traditional and innovative ways.
Art in major cities and globally "has awakened people about the struggle in Iran and kept them engaged with the ongoing fight of the Iranian people even when it stopped making headlines and the U.S. media largely stopped covering it," said Persis Karim, director of the Center for Iranian Diaspora Studies at San Francisco State University.
It has become an important vehicle to show what people in Iran are enduring, said Karim. She believes social media, particularly Instagram, has made Iranian art more accessible online. She highlighted MOZAIK's digital exhibitions as a significant example of collaboration between the diaspora around the world and local artists in Iran.
"It's not a revolution," she said. "It's a revolutionary movement, and it's not over yet."
'This wall is like my dream'
The wall at 14th and U Streets in what is known as D.C.'s Harlem has already been vandalized twice, and Pradel is planning to repaint it.
For Farazad, who was born in Iran and had to leave when she was just 15 months old, everything about this wall is deeply personal.
Like the current revolution in Iran, this art has brought people together in ways she had never seen before, she said.
"There were two times in my life when I was really proud of myself," she said. "One was when my daughter was born. The second time was that evening when we finished painting the wall."
Since her family left Iran in 1979, Farazad has never been able to return.
"This wall is like my dream," she said. "I want to be able to go to Iran one day, not in shackles, not caged. I am raising a little girl to be a strong woman. I want all those little girls to have the same opportunities as my daughter does in America. And they don't."