The renowned singer-songwriter Steven James Wylie has released his most recent EP, "The Muse," it's more than just music; it's a voyage into the depths of creative inspiration, served with a side of reflection and a sprinkling of ambient pop magic.
Fear not if you've been searching the cosmos for the legendary muse; Wylie has already done the hard work for you! Five captivating songs from the album "The Muse" will transport you through a range of feelings, from calm reflection to "Wow, I didn't know my heart could feel like that!"
But who is this musical genius, you may be wondering. Wylie fell in love with music while he was still in diapers. Possibly not exactly, but near enough. He developed his abilities and worked with friends from early on to create the highly acclaimed band Ancient Greece Monkey in 2010. They allegedly even sang to the sculptures of Greek gods in their spare time.
After that, he traveled to Nashville, Tennessee, where he met Grammy-winning musicians, performers, and session players. Those were the good old days in Nashville when the songs were as smooth as Tennessee whiskey and the lyrics were as free-flowing as a river.
Wylie, a multitalented individual, decided to work on every aspect of "The Muse." People, he's a one-man band in terms of music, not simply a singer-songwriter! He delivers everything with the elegance of a ballerina and the charm of a stand-up comedian, from ambient soundscapes to sentimental lyrics.
Finally, let's discuss that "cinematic" flare! If "The Muse" were a motion picture, it would be a hit! Imagine this: Wylie is seen playing his guitar while wearing a smart suit as the sky is filled with stars and shooting stars. Hollywood, take note: this EP will be the next blockbuster!
Where credit is due, it must go to Sean Spence in the enchanted Brentwood studio known as The Blue Grotto, where mixing and mastering were performed. We like the enchanting atmosphere that Sean has added to this EP by dusting it with fairy dust.
However, there's still more! Do you recall "Vintage Digital"? It's similar like discovering lost treasure in your grandmother's attic. Wylie has a number of successful songs and instrumental projects set to release for the public. It's time to polish your dance shoes and get in the flow.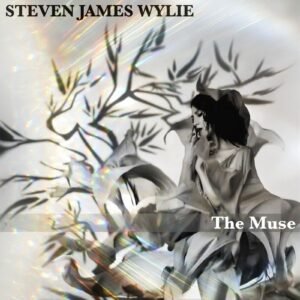 As if it weren't enough, "The Muse" is a cosmic link rather than only music. Wylie's songs wrap a loving musical hug around you and delve into the darkest recesses of your soul. Finding a buddy who actually gets you, even when you're eating ice cream at two in the morning and wondering why life is so complex, is like that.
So be ready for a unique symphonic trip, dear music lovers! Experience life's highs and lows wrapped in a musical tortilla as you go on Steven James Wylie's "The Muse" adventure, which is accessible on all major streaming services.
Don't forget to follow Wylie on Instagram to remain up to speed on all things Wylie, including new endeavors, behind-the-scenes antics, and maybe the occasional image of him jamming with a fluffy unicorn.
Go out, my fellow muses, and let "The Muse" lead you one lyric video at a time into the magical jungle of creativity!
Experience "The Muse" on all major streaming platforms including Spotify and Apple Music. The Lyric videos are also available on Youtube. 
To stay updated on Steven James Wylie's latest projects and upcoming releases, visit his official website at https://www.stevenjameswylie.com/