Boosie Badazz has run into minor health problems after he exhausted himself while on the road.
While the Baton Rouge rapper, who has diabetes, didn't share many details about what exactly happened, he posted a photo on Instagram on Monday (August 27) revealing that he had to be taken to hospital after his blood sugar had dropped to dangerously low levels.
"[SHOUT] OUT TO THE NURSES N DOCTORS AT BAPTIST MEMORIAL HOSPITAL FOR GETTING MY BLOOD SUGARS DOWN N GETTING ME N OUT," Boosie wrote alongside a picture of his arm with two plasters on it.
"NO COVID, NO DKA [Diabetic ketoacidosis], JUST HAD TO GET SOME BAGS OF FLUIDS (BEEN TO 6 STATES N 4 DAYS) DOC SAY I NEED REST I AGREE. HEADED BACK HOME THANKS TO THIS BIG ASS BED N I HEARD ITS GO BE RAINING."
The 40-year-old received an outpouring of support and well-wishes from fans in the comments section, with one person writing: "There's only one Boosie Badass so therefore we most definitely need you to be in too tier shape with your health.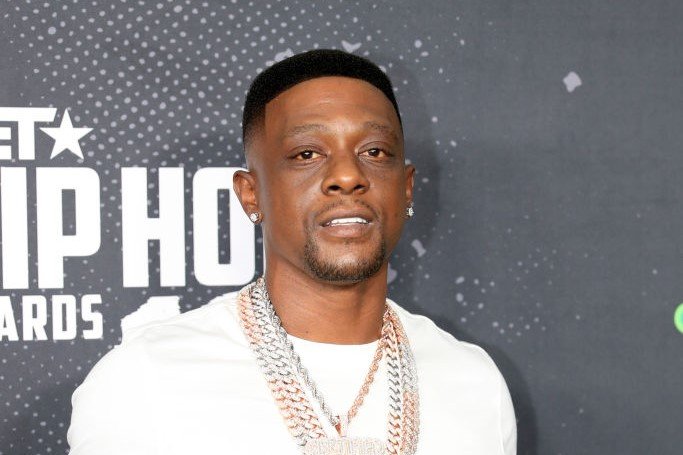 "We don't need you sick Boosie Boo wishing you a speedy recovery and us prayer warriors will keep praying for you everyday that be healed in the name of Jesus. Please take care of yourself."
Boosie's diabetes has been tough on the rapper for years. The "Wipe Me Down" rhymer was once forced to end a concert early in New York City due to not taking his medication, which he said was due to a miscommunication with his luggage during his travel.
He most recently opened up about the condition in January, saying he still at times struggled to manage the disease.
"This diabetes shit is hard. I've been fighting this sickness since 19 N still can't shake this shit !! Woke up sick af y'all keep me n yall prayers," he wrote on his Instagram Stories at the time.
To make matters worse, Boosie was also disagnosed with cancer back in November 2015, but he celebrated earlier this year that he was cancer-free 
"Stayed up all night praying for these results #cancerfree," he wrote on social media. "God great but he test your faith all the time."
In other news, Boosie Badazz recently put his former artist Yung Bleu on blast, calling him out for being a "con artist" along with his brother, and threatening to expose them to the world.
The Louisiana native took to Instagram Live last week with harsh words for his former Bad Azz Music Syndicate signee, claiming he once confronted him and his brother TQ on Canal Street in New York, and demanded the Love Scars singer hand over $30,000 he was allegedly owed.
"Asked about when I jumped out on 'em with that bat and ran his ass down Canal Street," Boosie said as he ate his dinner. "When him and Bleu stole from me the first time. See y'all don't know about that. I made Bleu give me 30k. N-gga been stealing bro. I thought that shit was over with bro. Them n-ggas con artists bro."
The criticism comes mere days after Boosie claimed Bleu kicked his artist T-Rell off his upcoming tour all because he showed support for Boosie's latest album Goin Thru Some Thangs.